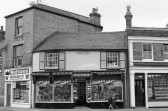 This is the website of the Chatteris Community Archive one of a number of archives in the Cambridge Community Archive Network. Here you can browse through our collection of local historical material, which includes photos, old documents and the memories of local people in Chatteris.
We are  keen to have some new contributions. If you have a few photographs you would like to add,  use the "contribute" page of this site and contribute a copy of the photograph yourself. Alternatively if you cannot do this but still wish to contribute – email us and we will be happy to try to help.
About us
This website is created by a group of volunteers. We're always interested in new recruits, so if you're interested please contact us.
Contributing to the site
You can add a comment about anything on the website by clicking on the 'Add a comment' link at the bottom of each page.